I didn't a article about the Skyline but rather on a service that I have used several times with great satisfaction and which I consider to be a very good deal!
Whether you order auto parts in Japan, or manga, or clothes, video games or stuff that can only be found in Japan, you also noticed like me that the bill is sometimes quite steep between the shipping costs, customs, and VAT.
Are youe tired of this ? There is a service that will be able to reduce the bill a little… it is a forwarding service. Several exist and for my part I have been using Blackship for several months and it's great!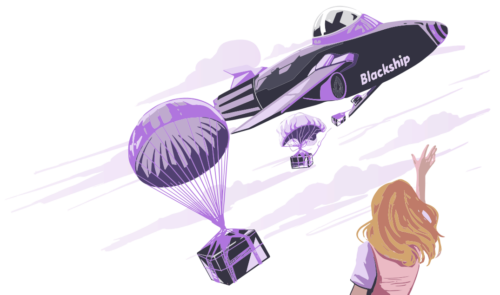 Blackship (the link in the image will grant you to a small reduction) provides you with a « normal » Japanese address, in the sense that you can (and you should!) use that address to as a delivery address for your online japan shopping.
But what is the point of going through an intermediary service rather than using your address directly?
Answers :
you can order from several different shops, have everything delivered to your Blackship address and ask Blackship to consolidate everything together in a single package: less shipping costs because a single package and prices negotiated with the majority of shipping companies.
it is also your responsibility to declare the contents of the packages you have delivered, the description of each package in a drop-down list, as well as the price (which will determine the amount of customs taxes / VAT). It can be tempting to « cheat » on the declared price, but you take the risk that in the event of loss / damage, the compensation will be based on the declared price … calculate your own risk if you choose this route. There are other forwarding services but Blackship is one of the only to make you responsible for the customs declaration.
I tested it around ten times with packages of all sizes, from bubble envelopes to packages over 80cm long and weighing 10kg. Great service.
Note that for those who wish to order auto parts, if parts are second hand (the one found on yahoo auctions for example) they must have been cleaned of any oil residue, to avoid flammable products…. if it's new, no problem.
My regret: not having used it earlier since ordering in Japan.
The thing that bother me the very first time: the Japanese address is your address. You give delegation to Blackship to be able to receive your packages. And Blackship needs to know your identity to know who the goods are being sent to (Japanese law requires it). This is why an identity document will be required.
Blackship also has another site, whiterabbitexpress.com, which can assist you in your online purchases (either because the site you wish to order does not accept your way of payment or because you find it too difficult to order on sites in Japanese). Obviously this service has an extra cost but it is good to know that it exists. If for example you want to order from Yahoo Japan auctions, this is a good solution (don't forget to check fees).
Whether you go through Blackship or another forwarding service, the same restrictions apply on non-exportable products (weapons, etc etc). All your questions will be answered here: https://support.blackship.com/category/343-account.
If you are comfortable ordering direct from Japanese sites like Rakuten, Amazon, Blackship is perfect with help from Google translate.
Finally, here is a sponsored link to Blackship with a small reduction (around 4 euros): https://blackship.com/?ref=JFFKX