Some times ago I decided to upgrade brakes. I wanted something with more efficiency that wouldn't cost a fortune however but with track capabilities.
There are a lot of brands available brakes : AP Racing, Alcon, brembo, …. all very efficient and expensive. On the cheaper side you have D2 and their clones. You can also put early Nissan GTR brake. They're great, devastating efficient. But …. they won't fit under standard wheel and I wanted to keep standard wheels.
And in the middle of expensive and cheap you have Stoptech.

Stoptech provides brake kits for a lot of applications. R34 is one of them. Each caliper is designed specifically for each car. Caliper templates are available so you can test fit them on your actual wheels before order.
I ordered front and rear kit. Front kit is the 4 pots with 355x35mm rotor. On the rear two options were available at the time : 2 pots and 4 pots. I went for 4 pots with a 355x32mm rotor. You may think « rear brake power is going to be to strong ». That's without knowking pistons size are different between front and rear so a nice balance is achieved. Front kit part number is 83.645.4C00.xx (xx depends on the color). Rear pkit part number is 83.645.0047.xx but I think this is no longer available. Only the 2 pistons kit is available now (I saved their Stoptech 2010 catalog). Both front and rear calipers use a very common pad shape (ST40) so you have a large choices for the compound.
Kit delivered. It looks really great. But you can say it's great when you fit it and when you have it tested. Everything is included except brake fluid : bolt, braided lines, calipers, rotors, brackets, thread locker.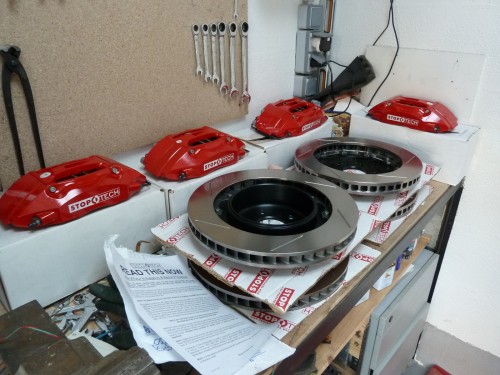 Fitting is not difficult. Patience and attention to details is the key.
You will have to cut a part of the current brake dust boot. Some choose to drop it. I choose to keep it but it must be cut so the bigger rotor can be installed.
As you can see new rotors are much bigger and thicker than standard rotor. They will achieve better heat dissipation.
Front bracket fitted.
Rear installation : the brake dust boot must be trimmed to installed the rear bracket :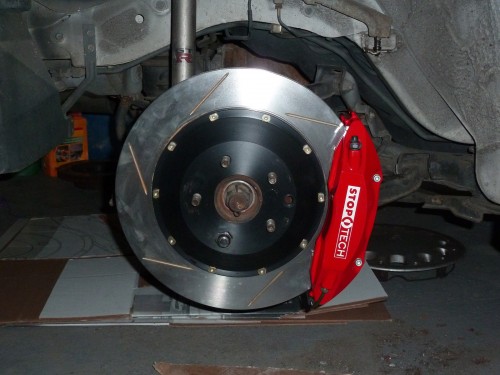 Wheel test fitment; it's a tight fit but it's been designed to fit under standard wheels. Once fitted you must change brake fluid and pay special attention to brake bed in. Following carrefully instructions is a key to have rotors and pads working at their max. After driving them for hundreds kilometeres and two track days I can say I'm very happy with the kit.